The Confidence of Experts
Pulsenomics recently conducted a comprehensive survey, the Home Price Expectation Survey (HPES), engaging over 100 economists, investment strategists, and housing market analysts. The survey aimed to glean insights into what these experts foresee for home prices over the next five years. The results speak volumes, with experts unanimously projecting annual home price increases through 2027 (refer to the graph below).
Estimated Home Price Performance
December to December as Forcasrted in Q3 2023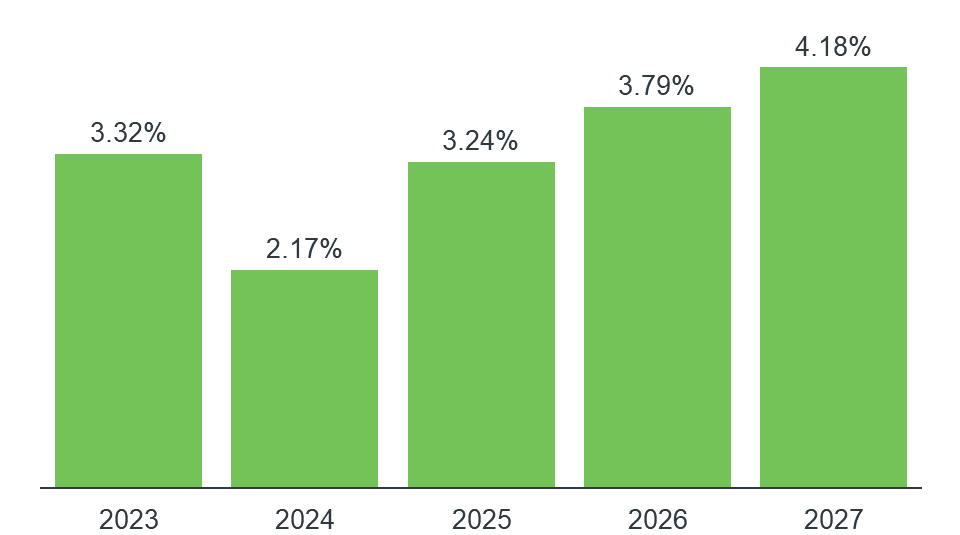 For those who may have grown concerned about the possibility of falling home prices based on online anecdotes, the resounding message is clear. While it's true that home prices can vary significantly by locality, experts are in agreement: home prices are slated to ascend across the nation for the foreseeable future. These projections indicate a return to a more typical pattern of home price appreciation.
It's important to note that while the projected increase for 2024 may not be as substantial as that of 2023, the key takeaway is that home price appreciation is cumulative. In other words, if the experts' forecasts are accurate, after your home's value rises by 3.32% this year, it will appreciate by an additional 2.17% next year. This serves as a prime example of why homeownership is a long-term investment that pays substantial dividends over time.
What Does This Mean for You?
Once you embark on the journey of homeownership, the appreciating value of your home becomes an asset, steadily growing your household wealth. To grasp how this might play out in real terms, consider a typical home's potential change in value over the next few years, as per the expert projections from HPES (see the graph below).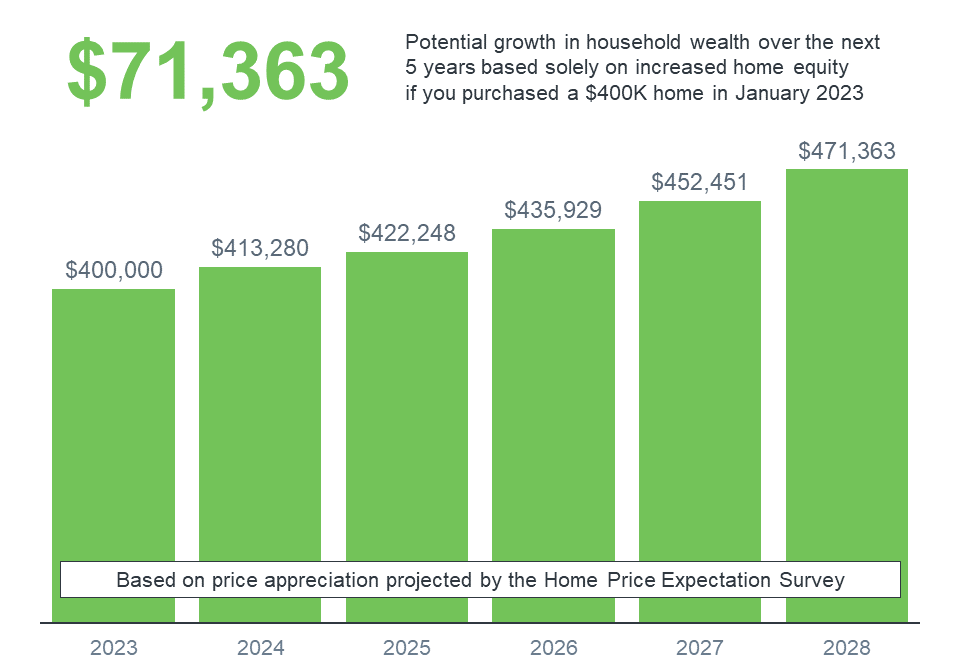 For instance, let's assume you purchased a $400,000 home at the start of this year. With the projections from HPES factored in, you could potentially accumulate more than $71,000 in household wealth over the next five years.
In conclusion, if you're deliberating whether buying a home is a sound financial choice, don't forget its remarkable potential as a vehicle for building wealth in the long run.
The Bottom Line
According to experts, home prices are anticipated to experience steady growth over the next five years, following a more typical pattern. If you're ready to take the leap into homeownership, understand that making that decision today can set you on a path toward long-term financial success as home values—and, consequently, your net worth—continue to rise. Reach out to a local real estate agent and kickstart your homebuying journey today.